Black's Beach is perhaps the largest nude beach in the United States and is popular with many nudists, naturists and the general public, worldwide.
Black's Beach is two miles long and is situated at the base of majestic cliffs up to 300 feet high. It is formally known as Torrey Pines Beach. Black's Beach is in La Jolla, San Diego, California
Many people believe Black's Beach got it's name due to the prominent amount of black sand that covers the beach. However, this is not the case. Black's Beach actually got it's name from a man named William Black, Sr., an oil millionaire who owned and developed most of the land on the cliffs above Black's Beach.
Portions of the beach lie under city property and other parts lie in the zone of Torrey Pines State Park, where nudity has been legal under the Cahill policy since 1979. That policy was revoked in late 2009. 30 years of clothing optional freedom!
With the revocation of the Cahill policy, there is a real possibility that citations for nudity could occur in the future at all traditional clothing optional beaches in the California State Parks. The official word from the California State Parks, is that they have no plans to shut down the clothing optional status at Black's Beach.
Sea Mountain Luxury, Romantic, Nude Spa, Resort Hotel, Day Lounge, Day Club and Night Club. USAs top ranked Adults Only Lifestyles Club Resort and SPA. Awarded, Private, Romantic, Nude Spa, Hotel and 24 hour Resort. Desert Hot Springs / Palm Springs CA  –  www.nudespa.com – 877-928-2827
However, with the aggressive court battle that the State engaged in to take away the clothing optional status at San Onofre State Beach (45 minutes north of Black's Beach), it is not a good sign.
Many people close to the situation believe the California State Parks has a long term plan to close all clothing optional areas in the remaining state parks where nudity has been tolerated.
All we have to say if this is true is, good luck. We can't even begin to imagine the public opposition to changing the long standing clothing optional culture that has been at Black's Beach for decades.
The fight to keep San Onofre Trail 6 clothing optional is far from over. However, citations for nudity are likely come spring/summer 2010 at San Onofre unless something changes.
It is predicted that the naturists will take any tickets issued and fight for their freedom in the criminal courts and bring awareness to their freedoms being infringed upon through the media.
Why after 30 years is the State of California playing conservative Watch Dog with Naturists and those curious about nude sun bathing? Especially on the very small and remote 1000ft stretch of beach that is San Onofre Trail 6. There are many theories and opinions out there as to the reasons why. But, the bare bottom line is, if San Onofre goes, people at Black's better keep a swimsuit near by if they decide to wear their birthday suit.
That conservative WatchDog has left a big stinky one on the beach at San Onofre and the stench is heading south to Black's. Yes, it may take years to get there, but unless we realize the size of the dump that San Onofre Beach has on it's beach at Trail 6 right now, we may never find a pooper scooper big enough to deal with what may land at Black's Beach.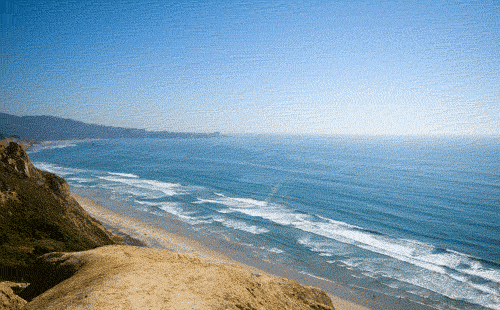 Come to the most unique and upscale lifestyles temple on earth and see where desire can be achieved by positive loving each day and night of the year.  The Sea Mountain One Love Experience brings Passion, love and a sacred PARTY to the land of Las Vegas.